2016 Junior
GOLFER Camps
The right camp for the right start in golf!
A camp for beginner / intermediate golfers from 8 to 15 years of age.
CAMP FEE: $90 cash,visa/mastercard or checks payable to CNY Golf Academy
REGISTER: Call CNY Golf Academy at 315-436-8122
Questions?: Email Wendy at kaizengolf@gmail.com or Jack at JackConger@pga.com
See our Golf Camp Flyer for Details:
2016 Junior GOLFER (pdf)
CAMP 1
Ages 8-10 – July 20-22nd
11:30 am –1:30 pm
CAMP 2
Ages 11-15 – July 20-22nd
9:00 am – 11:00 am
We offer 2 camps this summer at The Links At Erie Village. Camp highlights include:
6 hours of golf FUN
Simplified curriculum built around game based stations
Golf basics include golf swing, putting, short game, knowledge and scoring
Fun and easy to follow golf formats
Prizes and completion certificate
PGA Golf Professionals with experience leading the way!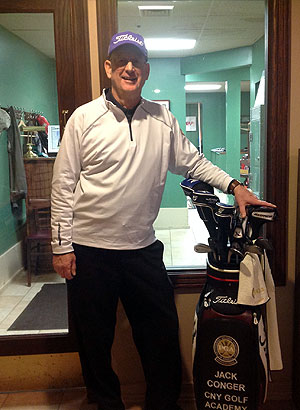 Directed by
Jack Conger and Wendy Stark
PGA Golf Professionals